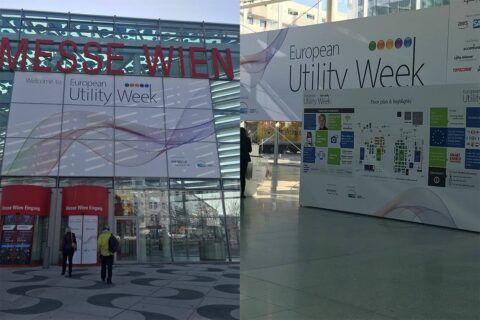 I've just returned from Vienna, having spent the past few days meeting contacts old and new across the exhibition halls of the Messe Wien. European Utility Week (EUW) is regarded as the biggest industry events of the year, and it's a must visit – not only for the exhibition and summit itself, but also so you can connect with people from across the UK energy industry.
This year's event was perhaps the busiest yet – with three packed days of meetings and events. One thing that was really obvious this year was the massive recognition from nearly all participants of the role that new and developing technologies are going to take in the market. Our friends at Utiligroup hosted an afternoon showcase session where many new and exciting companies presented their technologies – including Solo Energy who are looking to create a 100% renewable energy future with their battery storage and renewable powered Virtual Power Plant offering, all hosted on the blockchain. Other presenters talked about how technology can put the power back in the hands of the consumer through smart meter enabled apps.
Another thing that struck me about the event was how big companies are recognising how diversity can help their growth and development. The event saw the first all-women panel, and SAP hosted a drinks reception for Women in Energy – it was great to see that the face of the industry is slowly changing. There's still lots to do – attendees at the event were largely male and pale, but we are moving in the right direction!
All in all, it was a fantastic three days, and I can't wait for EUW 2019 in Paris.